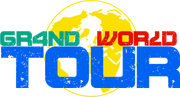 Grand World Tour
, abbreviated as
GWT
, is a reality television game show, that aires October 9, 2012 the United States, France, and Australia. The show was created by Geneva Imogen and Stephen Rudiford. The show will take place in different cities around the world and with 24 contestants and the host Jackson Highlenborough. The contestants must compete and complete various challenges inorder to win immunity and not get eliminated. one will stand and win $1,000,000.
Season
Eps.
Originally
aired
DVD release dates
Region 1
Region 4
Discs
Canada
United States
Season 1
32
2012-2013
TBA
TBA
TBA
TBA
See Also: GWT (season 1)
The first season will have 4 teams of 6 contestants. The first season will have 32 episodes that were filmed between April 21,2012 and July 1,2012 .
Adam
Reese
Will
Zoey
Anna
Quinn

Team Rush
Alex
David
Christian
Laura
Kim
Sarah

Team Pacific
Ray
Taylor
Austin
June
Olivia
Katherine

Team Bolt
Erick
Samuel
Lucas
Stephanie
Amanda
Emily